Case Study
Creating a Powerful, Performant Social Network with BuddyPress and Algolia
The goal of this project was to build a new site for Sales Hacker, a social networking site for an amazing group of sales professionals. The problem was that the previous site did nothing to showcase or engage the very people who make Sales Hacker. We were fortunate to partner with Shay Bocks, the new site designer, and Mission Lab shines who have years of experience with BuddyPress and building complex web applications using BuddyPress. Having the opportunity to bring our Algolia expertise to pair with their community platform development knowledge was an absolute pleasure.

Powerful Search Solutions, powered by Algolia
Knowing the power of Algolia – the search indexing, faceting and filtering, advanced A/B testing and so much more – we set out to build something completely unique. We wanted Algolia to not only power the search experience, but the entire social network.
Search relevance that rivals Google, but even faster!
Free for the first 10,000 searches per month.
Powerful search indexing across a variety of different data types, searching thousands of entries in milliseconds.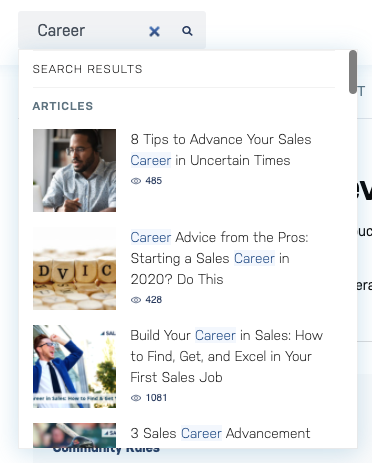 Super-Charging BuddyPress with Algolia
Beyond simply powering their search results with Algolia, we were able to bring the power of InstantSearch to every part of the social network. This means that everything – from the blog comments, to the social posting and discussions, to the listing of groups – is all powered by Algolia. Tha means all of it shows up instantly, and can be searched, filtered, and sorted – instantly.
Powerful Collaborations Breed Brilliant Outcomes
None of this would have been possible without the combined power of technology like Algolia, open source projects like BuddyPress and the Algolia plugin from WebDevStudios, and the expert partnership of the good folks at Mission Lab and Sales Hacker. We're unbelievably thankful for all of the moving pieces and people that created such an incredible experience. Want to learn more about how we did it?
Want us to build your next big idea? Get in touch.